Are you looking for the helpful air compressor equipment for faster and easier tire inflation, deflation or pressure equalization? If you like spending your free time outside the city in the desert, off road with your 4×4 car, check out our store!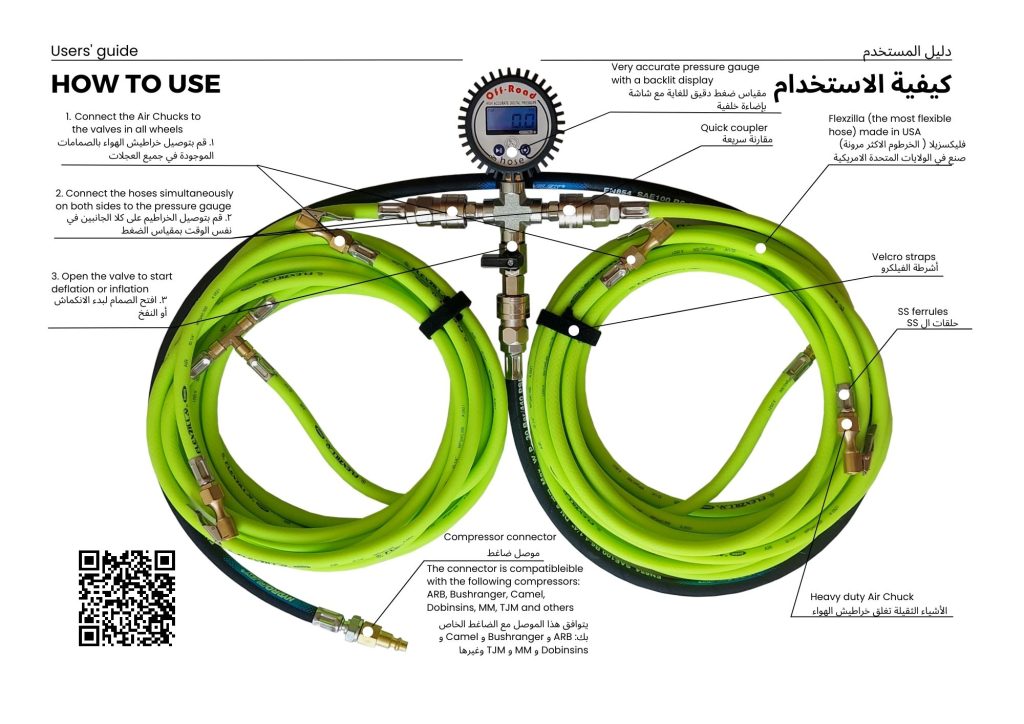 Off-Road hose is a system  to inflate and deflate 2 or 4 tires at the same time.
Moreover our hose automatically equalizes all connected tires' pressure. It is made to be use friendly for every user.
Produced using the highest quality components resistant to high temperature and pressure.
Off-Road hose is an essential accessory for every 4×4 desert enthusiast or  anyone who wants to save time and effort.  Exactly at the same time, thanks to this system, you are able to inflate four wheels simultaneously.
During  many off-road trips on Middle East we have been tested our hose with multiple air compressors brands in terms of durability and practicality.  
Thanks to the pressure gauge you are able to monitor conveniently your tire pressure while inflating or simply deflating.
Furthermore our digital pressure gauge is equipped with a backlit display which allows to read the pressure accurately even in the dark.
Our products are available in the UAE. We deliver our products to most countries in the GCC region. You can order delivery to Saudi Arabia, Oman, Kuwait, Bahrain or any other country around the world!